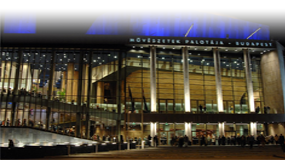 In the Autumn of 2013, we were invited as exhibitors to one the most prestigious Galas in Hungary . The white tie event celebrated the foremost companies and leaders in a night of cultural  performances and showcased such  brands and  distinguished brands and luxury services as Zsolt Zólyom, perfumer, Réka Vágo shoe designer, Péter Mérő clothes designer or the us as the designers behind Splendor-Jewellery. The event was an unforgeable wonderful experience where we were met with great amounts of interest, acknowledgement and praise.
The Palace of Arts in Budapest is a very impressive building, but until now we have known it as a cultural centre and a  venue for classical music, and an important stage for our upcoming international tour where we saw the dancers of the Contemporary Ballet of Szeged in rehearsals. But on this occasion we saw a new side of the palace. For this mayor event, the building was filled with the stalls showcasing a wide variety of companies offering exclusive services, such as the stalls of the prestigious Gundel Restaurant, and other companies making hand crafted and luxury drinks, chocolate and food.
We had a wonderful time at the gala, and felt that our creations were worthy of the event. Our gemstone microscope through which guests of the gala could get a glimpse into the marvellous intricacies of gemstones was a great success as were our jewellery creations, the five hours we spent at the Palace of Arts flew by very quickly.