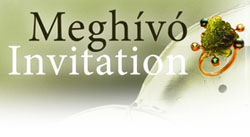 On 1 March 2012, the Pro Jugendstil Art Foundation organized an exhibition of contemporary jewellery where a great number of Splendor-Jewellery creations where showcased. Many agreed that our pieces where the most beautiful and interesting.
In the elegant Hársfa Room at Hotel Corinthia, artists and goldsmiths exhibited their unique creations. Most of the visitors were foreigners. It was interesting to see the creations born from the other artists\' imaginations, walking through the exhibition was a colorful and thought provoking experience.
The event was 3 days long. Thank you to all our visitors !