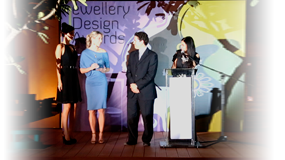 Hooray! We won yet another award in the United Arab Emirates, thus Splendor-Jewellery can boast of having won 55 trophies from around the world. We have never heard of any other jewellery design team with such a great number of awards on an international level.
We first took part in the Dubai Jewellery Week in the United Emirates in 2011. Although we had had a successful exhibition  of our work in Abu Dhabi before, the Arabic region was mostly new and unknown territory for us. We did not know what to expect  in terms of the style and taste that would appeal to the judges or the competition.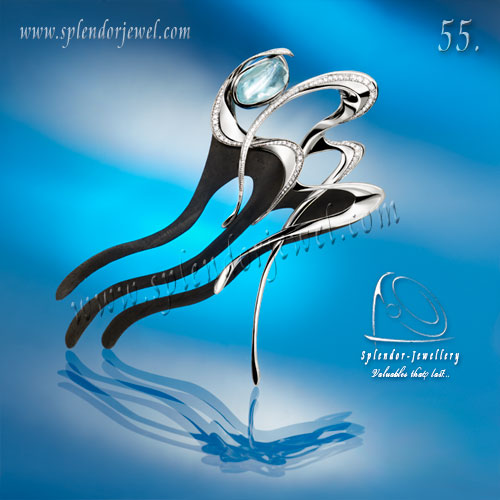 We completed the challenge successfully, as Orsolya won absolute first place with her white gold and aquamarine "Tears of a Mermaid" jewellery collection. The video about the birth of this collection and the award ceremony can be viewed by clicking here.  News of our victory in Dubai spread quick and far, we had never experienced this level of interest before, despite having been up on the podium over 50 times before.
Fuelled by our previous success, we entered and won the competition once again. Orsolya's hairpin made of ebony and white gold received first place. The piece is adorned with a unique heart shaped leaf cut aquamarine and a row of brilliant cut diamonds.  It is important to know, that the hairpin was created as a part of a large project, a series of performances entitled Dancing Diamonds. As such, it was also inspired by ballet movements and matches the other pieces in the collection. Our model wore the entire collection in Dubai.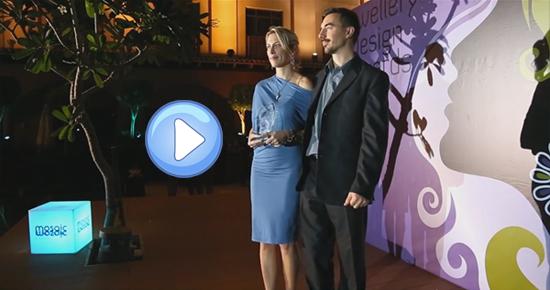 The award ceremony was held in the prestigious Kempinski Hotel and was even more exclusive than the last. It seems that this competition is quite an important and prestigious event in the local jewellery world.
Orsolya received a great amount of praise as well as many offers. We met several new people and we felt that our craft, style and artistic point of view is well received. Therefore we are eager to expand towards the Arabic region as well, which is an entirely new territory to us. We hope to meet new exciting challenges an commissions through which we can create truly unique, original and  personalized works of art.