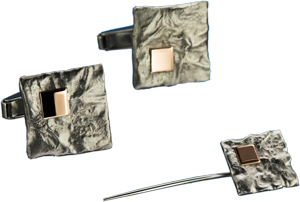 Male jewellery is less common than female jewellery, yet there is serious demand for them. The needs regarding these pieces are, however, completely different. This could bethe reason they are not attractive to mass producers of jewellery. Therefore, there is a smaller supply of male jewellery and fewer fashion trends.
Interestingly, men will not wear anything just because it is beautiful, made from gold, silver and platinum. Based on our experience, male clients prefer personalized pieces even more so than female clients. When they realize that they have an opportunity to commission a personalized unique work of art where they can define all the parameters, they become more excited about the pieces than women.
All in all, we can safely state that men like jewellery pieces that were made especially for them. It is important that their jewellery not interfere with their daily routine, while reflecting their personality, hobbies, relationships and/or status.
Apart from the traditional male jewellery pieces such as signet rings, tie clips and pins, cufflinks are very popular, partly due to the possibility for different variations. We are often commissioned to use a combination of black or dark metals, sometimes black precious stones such as black diamonds, brown (Cognac) diamonds but also traditional brilliant or princess cut white (transparent) diamonds. The pattern on the cufflinks are often engraved or enameled or have a shape that reflects the personal characteristics of the wearer. It is not uncommon for cufflinks to show numbers, names, family characteristics such as a coat of arms, family seals, or sunken reliefs such as those on signet rings.
Over the years we had been commissioned to make are several varieties of less common jewellery for men, such as earrings, medallions, money clips, male bracelets. Moreover, due to modern lifestyles, new male jewellery types have emerged and we have also had the chance to craft key chains, jewellery cases for car keys and pendrives that can be worn as medallions, bracelets or parts of keys. There is an increasing demand for accessories to complement tuxedos, pocket pins for jackets, dress coats, special custom-made buttons for trousers, thus we are called upon to revisit dressing styles of the past. Among our popular pieces for men are belt buckles, pill boxes, cases for glasses, business card holders and pens. Pens have special significance for many men. They are especially important parts of Arabic genlemen's attire, and can be very significant at business meetings and signing contracts where a jewellery pen sends a message to one's partners.
Our imagination knows no boundaries, so we are commissioned to create increasingly interesting, more and more unique and personalized pieces for our clients. Quite often we invent new jewellery categories together. This is the way of thinking that is attractive to our male clients: expressing their unique personality.