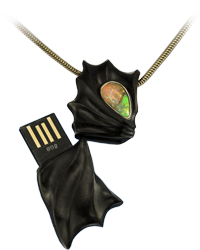 At the turn of the 19th and 20th century a great number of everyday objects were made from precious metals such as silver cutlery, face powder compacts, makeup tools, picture frames as well as precious metal ornamental objects and jewellery connected with smoking and social life. Mass production and the availability of cheap plastic goods had pushed such precious metal objects off the market. However, we are really fond of the said era where such objects represented quality and were personal and people were surrounded by art and aesthetics.
Luckily, there is interest in such items today. Of course, while a commission for a silver comb set or inkwell is much less common today, there are such jewellery items that can play a useful role in our modern daily routines. Such are our artistically crafted, unique and personalized jewellery pen-drives.
Many ladies come to us seeking personal yet also useful ornamental gifts that have long lasting quality for the special men in their lives. It is not an easy task to find such an object, but one alternative is a unique, artistically crafted and personalized jewellery pen-drive. Along this line, we can also craft gold, silver or platinum computer mice, memory unit, pointer, PC key or the like embellished with precious stones, diamond or chiseling.
The most popular of these useful objects are jewellery pen-drives which are also known as usb memory sticks, flash memory sticks among others. These items are small but are used every day, thus are always with the owner. Due to the small size of pen-drives they can take virtually any exciting shape. Also, pen-drives are often seen by others. We recommend these objects for both men and women
Jewellery pen-drives can be worn as medallions, pendants, key chains, as part of bracelets or as stand alone objects. They can also be part of some more significant object or can fulfill an even more unusual function. What is common in our pen-drives and the essence of their popularity is the wide spectrum of possibilities that can guarantee personalization. The memory units in unique pieces can be switched with the development of technology.
All in all, jewellery pen-drives are modern functional/ornamental items that can carry all the important information and date that one needs for work.