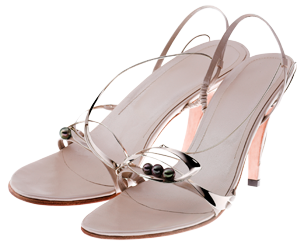 We constantly seek out challenges and enjoy testing the boundaries of the goldsmith craft. Over the years, we have created a gold and ray skin bag, a magic staff made of bubinga wood and brilliant cut diamonds, a watch crafted from ebony and mahogany embellished with Cognac colored diamonds, a silver belt buckle with wood detailing, a gold and ebony pillbox, a leather wallet embellished with diamonds as well as numerous other curiosities, but each piece we make is special.
The first stiletto jewellery sandals were custom-made for Orsolya's feet for the Tahitian Pearl Trophy jewellery competition, were it won first place in the international regional finals. We had seen several jewellery footwear designs but all of them had the precious metal embellishments added onto a finished leather shoe base. When creating our shoe, the traditional and jewellery elements of the shoe were created simultaneously, so they can be integrated, which makes the shoes more durable and sophisticated.
The special quality of these shoes is that they need to be customized to fit the feet of the wearer. They need to follow the bone structure and movement of the one's feet so they can be fully functional and comfortable. So our jewellery footwear creations are not merely uncomfortable decorative pieces, but functional, wearable footwear. Proof of this is the long years of experience, balls, dances, weddings and fashion shows among other events where Splendor-Jewellery's shoes have been worn.

It is not worth buying jewellery shoes from off the shelf, because it is very rare that the pieces fit one as if they were custom-made. Our strength lies in personalization, designing and crafting to fit unique characteristics, and it is especially so in the case of our jewellery footwear.
We offer a special exclusive service that is one of a kind in the world. While jewellery shoes are just one of the possibilities available to our clients, they are one of the most unique.